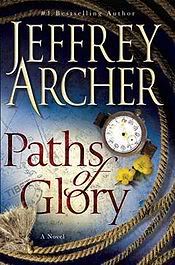 Paths of Glory is a fictionalized account of George Mallory, a mountaineer who tried to conquer the Mount Everest in 1924, but nobody knows whether he succeeded because he died during that attempt. It is not confirmed whether Mallory died on the way down (which makes him the first man to have scaled Mount Everest) or on the way up. Many people believe that Mallory died before he climbed the highest point. Jeffrey Archer thinks otherwise. A newspaper in New Zealand called
Archer's book an insult to Sir Edmund Hillary
, who is hailed as the first man to reach the top of the world.
This book is Archer's take on this mystery. The book opens with the discovery of Mallory's body on the mountain, so there is no need to guess the hero's fate later in the book. Archer builds up readers' confidence in Mallory by depicting him as a man with special skills. He shows Mallory as a courageous kid who doesn't know what fear means. He portrays Mallory's character in such a way that it is hard for the readers to believe that Mallory can fail at anything.
Keeping the mystery and the controversies aside, this book is an entertaining read. Archer is a wonderful story teller and knows how he should paint his characters so as to please his readers. He knows when to end a chapter to ensure that the reader hops onto the next one without any interval. I have always liked Archer for his gift of engaging his readers in an entertaining story with interesting characters. Reading Archer is like watching a Hindi masala movie – quick, entertaining and thrilling. This might not be the best book of Jeffrey Archer, but it still is a good book to read.